Sugarbeads is an all-time favorite spot for kids parties. Our beautiful party space and skilled staff ensures your event will be memorable and your guests have a wonderful time.  Book your next party at Sugarbeads and make some beautiful memories!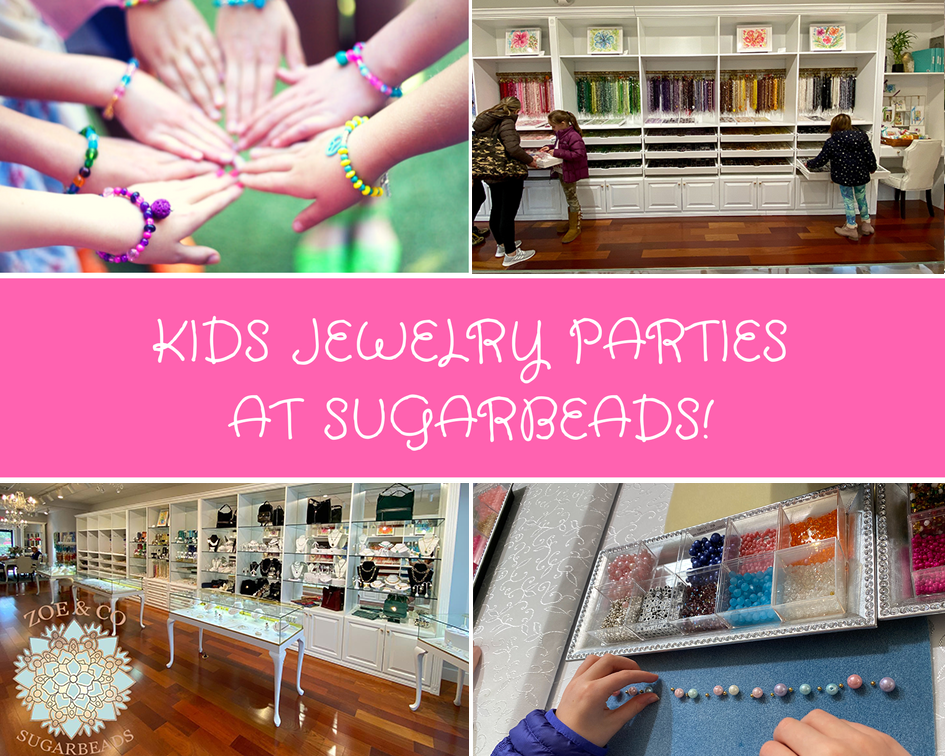 Kids take home their very own unique handmade jewelry!
Includes all materials and expert and caring help from staff.
We adapt the class to age and skill level.
Cake, balloons and pizza available upon request.
Up to 8 kids for only $300!  Each additional child is $25, maximum 14 kids.
Our party package is wonderful – Your child and her guests will be entertained with 1 and 1/2 hours of fun and creativity! The first part of the party is jewelry making and the second part is for pizza, cake, refreshments and celebration.
We provide thousands of beautiful beads and charms to choose from, all the materials they need and guided instruction from our experienced and caring staff. The birthday girl can choose an extra charm for her jewelry and will go home with a $5 gift certificate! We can also provide colorful party banners and decorations, all free of charge.
The price for this party package is only $300 for 8 guests and $25 each additional guest. We can accommodate up to 14 children.
If you would like, we are also happy to provide fresh hot pizzas, juice and water bottles, all for only $50!  Birthday cake or cupcakes can also be arranged!
Come celebrate at Sugarbeads and make memories that will last forever!
Call us at 203-431-6655 to reserve a spot!