[vc_row] [vc_column width="1/3″]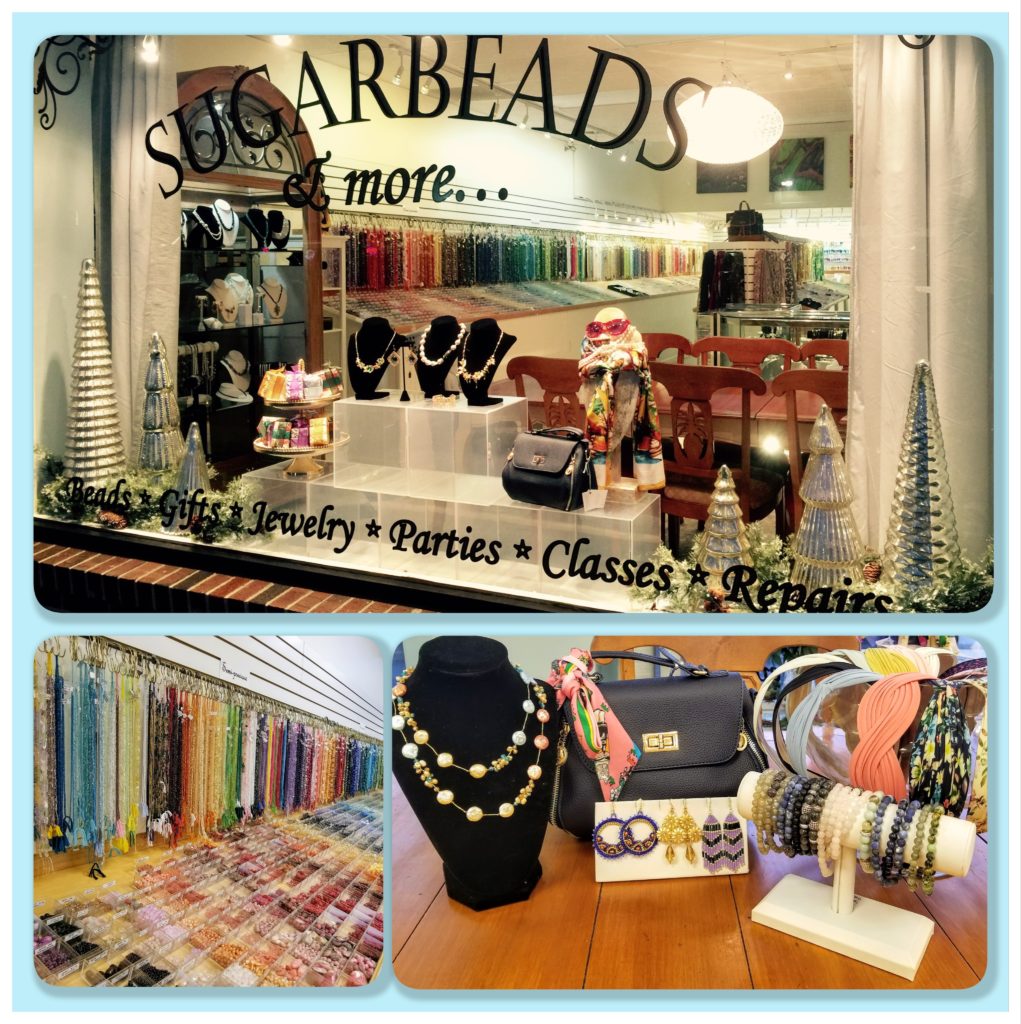 [/vc_column] [vc_column width="1/3″][vc_column_text]
Sugarbeads is an artisan boutique and bead store in Ridgefield, CT offering a wide selection of designer jewelry, gifts, quality beads and jewelry making supplies. We also offer classes daily, as well as parties for kids and adults. We have an extraordinary variety of high quality beads, findings, wire, supplies and more. There is something for everyone, from novice to accomplished professional! Sugarbeads is a dazzling space with a rainbow of color on every wall, over 5,000 types of beads to choose from, and a bright, inviting design table for our customers to use when they visit.
[/vc_column_text][/vc_column] [vc_column width="1/3″][vc_column_text]
We carry beautiful handmade jewelry in every style and price point! We feature exquisite handmade designer jewelry made by local artisans using the finest materials and techniques. We also carry accessories such as scarves, hair clips and headbands, hand bags and more! In addition to our phenomenal selection of beads, finished jewelry and accessories, Sugarbeads also offers custom designed jewelry, repairs, classes, and parties!
[/vc_column_text][/vc_column][/vc_row] [vc_row] [vc_column width="1/3″][vc_column_text]
SEE OUR WIDE SELECTION:Semi-precious and precious gemstones
Vermeil, gold-filled, sterling silver and base metal beads, findings, chain and wire
Freshwater pearls
Swarovski crystal
Thunder polish crystal
Czech glass
Fire polish glass
Handmade glass & lampwork
Seed beads
Shell, bone, wood
Leather, suede, waxed linen & more
[/vc_column_text][/vc_column] [vc_column width="1/3″][vc_column_text]
Testimonials
[testimonials_cycle random="true" count='5′ theme='default_style' transition='fade' timer='10000′ container='1′] [/vc_column_text][/vc_column][/vc_row]